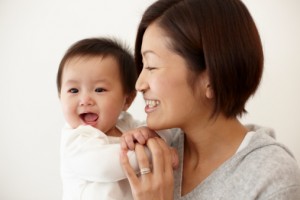 Choosing your baby's name can be so much fun. It isn't everyday that you get to pick the lifelong name for another person! Personally, I have loved the name-choosing process. During each of my pregnancies, we came up with a short list of names (most of them I already had in mind), and mulled them over for a while before settling on the perfect one. I culled the numerous baby names databases online, but I also had an odd habit of reading closely through movie and TV show credits looking for names that sparked my interest. The middle names we chose for our children are all family names. That too was a fun process to honor a family member by giving our new baby their name.
For some, choosing their baby's name can also be stressful. Partners may have a difficult time agreeing on the same name, family members may get upset if their name wasn't chosen, and friends may be all-too-giving of their opinion when a name is shared, causing hurt feelings and doubt for the parents-to-be.
If you're smack in the middle of the naming process and feeling stuck, below are some ways to come up with new name ideas and choose one that best suits your family.
Keep a name journal. Whenever you come across a name you like, write it down.
Climb the family tree. Looking for a name with familial ties? Look within your extended family tree. If you don't know your ancestral names, ask your parents or grandparents or look into an online ancestry website. Find out the first and middle names of great, great aunts and uncles and great, great, great grandparents.
Look to the stars. The movie stars, that is. Consider both present day and classic Hollywood names.
Find meaning. Look up names by their meaning -- you may be surprised at what you find. And, it certainly can't hurt to name your child something that means "peaceful."
Ask for suggestions. Facebook is a great place to poll the larger audience. Put up a post asking for your friends and family to provide name suggestions. Or, if you've narrowed down your names to just a few and are having a hard time deciding, put them up on social media and ask for friends to pick their favorite.
Whatever naming process you use, more than likely, the name that you choose for your child will be the perfect fit. Most parents say that they can't imagine their child with any other name.
How did you come up with names for your child? What helped you make a final decision?