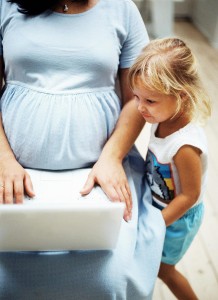 In this series of posts, we'll take a look at one of the most powerful influences on your life as a parent--the media. I'll give you my doula/childbirth educator/mama scoop on what's most likely to build your confidence and what's just going to freak you out!
Without a doubt, most mamas today look to the internet for guidance. A Google search for pregnancy yields about 314 million results. Type in birth and you're looking at about 696 million! Think it might be difficult to sort through what is worthy of a bookmark and what deserves a spot in your trash? Oh, yes! This is by no means a complete list, but here's a few that are definitely worth your click:
lamaze.org --This is NOT a shameless plug. Lamaze's website is a fabulous resource for expectant families to find evidence-based information, videos of Lamaze's Healthy Birth Practices, a directory of childbirth educators, a community of support, and my personal favorite, the weekly email newsletter, Building Your Confidence Week-by-Week. It is hands-down the best one out there, giving you real, useful advice, not just telling you what item of produce your baby most resembles each week.
childbirthconnection.org -- I am a firm believer that if you aren't informed about your options, then you don't have any. Childbirth Connection's slogan is Helping Women and Health Professionals Make Informed Maternity Care Decisions, and their website definitely delivers. It is chock-full of information about medical procedures, interventions, and serious scientific evidence in a very user-friendly format. The icing on the cake is the Listening to Mothers survey, a compilation of data from thousands of births coming from the mamas themselves. It's an invaluable tool in making informed decisions and also in transforming maternity care to make it safer and healthier for mamas and babies.
mothering.com -- From pregnancy to puberty, you will find it here! This site is a perfect combination of solid information and interactive community. Mothering.com covers pregnancy, breastfeeding, parenting, and more, with a natural approach that's not hippy, it's healthy. The MotheringDotCommunity message board has dozens of groups--you're guaranteed to find a least one where you belong.
babyfit.com -- A healthy mama is a happy mama, but it's not always easy. This site offers nutrition and exercise advice from preconception, pregnancy, postpartum, and beyond complete with online support groups, personalized nutrition and fitness trackers, and several great email newsletters. The best part? It's all free!
breastfeedinginc.ca (formerly drjacknewman.com) -- If you are breastfeeding, you NEED to bookmark this site. Dr. Jack Newman is North America's lactation guru. His website offers incredible information about why and how to breastfeed, dozens of articles to troubleshoot common problems, and videos so you can actually SEE how to nurse your little one comfortably and successfully. Even more amazing is that if you need extra help, you can contact the good doctor himself, and he usually responds within 24 hours.
Happy browsing, Mamas!