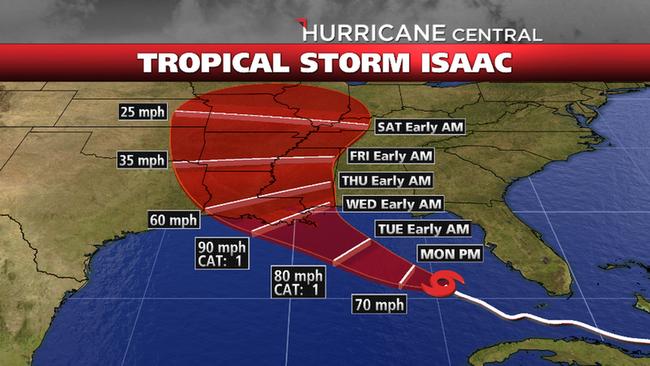 Image from The Weather Channel.
As Tropical Storm Isaac (soon predicted to be Hurricane Isaac) makes its way up the Southeastern U.S. coast, people who live in the projected path are making preparations for safety, like filling up on gas, purchasing non-perishables, protecting valuables, and securing their home. Pregnant women, especially those in the late stages (7-9 months), who live in the hurricane prone areas, should take additional precautions to ensure the health and safety of themselves and their babies. Heeding these tips can help alleviate some of the added stress you may experience.
Special Precautions for Pregnancy During a Hurricane
Call your care provider and ask what they recommend for your safety. They may even provide a resource list. This will also be helpful if you have special complications or a high-risk pregnancy. Your provider will discuss the safer option if you are evacuated (general shelter vs. hospital shelter).
Stock up on medications and/or special equipment. Have at least a two-week supply available and request hand written prescriptions from your care provider in the event that you are displaced for a longer period of time. If you have diabetes, asthma or another condition that requires special equipment, stock up on supplies to take with you.
Have a copy of your medical records on hand, just as you would if you were traveling for an extended period of time or out of the country. This is especially helpful if you are evacuated for a length of time.
Prepare to stay hydrated. Dehydration during pregnancy can cause preterm labor, so be sure to have plenty of safe drinking water available to you. Stock up in advance, if possible. As the storm approaches stores are more likely to run out of bottled water.
Pack your labor & birth bag. This is especially key if you are in your ninth month or nearing your due date. Pack supplies that you would have packed for yourself, your partner and your baby to bring to your hospital, birth center, or for a home birth.
Heed your local evacuation recommendations. This is good advice for anyone, pregnant or not. If your local officials recommend you evacuate your area, make every effort to do so.For additional recommendations, take a look at the Florida Department of Health's Hurricane Tips: Pregnant Women resource sheet.