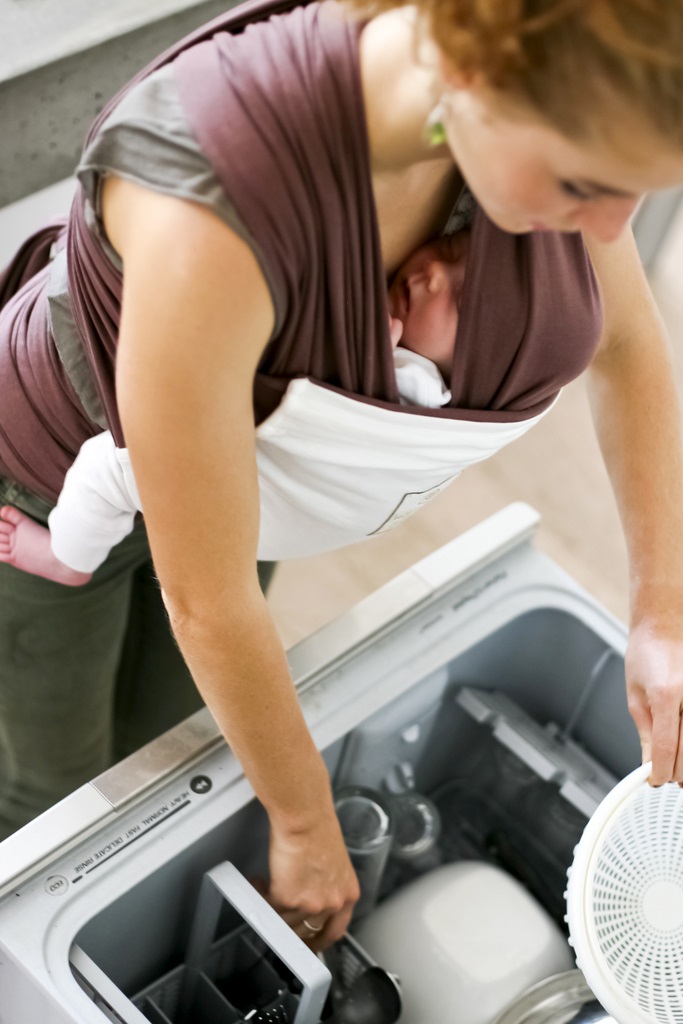 You took Lamaze classes. Your doula checked in on you, sometimes daily. You knew that you were going to give birth at your local birthing center, where you could move around and hold your baby immediately once she was born. Whether everything went as planned or not, you could say that you felt confident about giving birth at least far more confident than you feel now that you have a baby at home. If you find your confidence has waned in the fourth trimester the first three months of your baby's life know that you are not alone. Adjusting to your new mothering routine can be far more difficult than talking about it in parenting classes, but the skills that you gained in order to give birth confidently can also assist you through the fourth trimester.
Be Flexible
When giving birth, we respect that every infant is different and will have her own way of coming into the world. She will also have her own way of being in the world. Just as you allowed labor to begin on its own and allowed yourself to change positions as you gave birth, you will need to give yourself the time and space to align your parenting expectations with your newborn's actual needs and desires. You may not accomplish everything that you set out to do in your day, and that's okay. You may be surprised by your own feelings it's not unusual to experience some postpartum depression, or to struggle with your new postpartum body. Keep an open mind and remember that having a healthy baby is still your ultimate goal.
Be Mindful of Your Urges
Natural birth encourages mothers to follow their urges to eat if they're hungry, and of course, to push when the body says push. Our bodies know how to give birth. Remaining aware of your body's urges will also help you mother into the fourth trimester. Our bodies know how to mother. Remember that the baby blues are normal. We go through tremendous hormonal shifts in the days following labor, and it's common to worry about your baby's safety. Mindfulness will also help you to be aware of whether you feel like you might be a danger to your baby's safety. If you notice that you're having urges that you don't understand, seek help. Activities such as conscious breathing will keep you centered and aware through your baby's first three months.
Seek Support
If you notice yourself experiencing severe postpartum depression, you should obviously speak to a doctor, counselor, or doula and get connected with the resources that will help you to function and thrive. However, even those who feel mentally stable after birth shouldn't feel pressure to mother alone. Hiring a postpartum doula can help encourage confident mothering beyond the fourth trimester, in addition to assisting with lactation issues. If you have a supportive partner, be open about how you're feeling. Postpartum support groups can connect you with mothers who may be experiencing what you're experiencing, which can decrease any lingering sense of isolation.
Hold Your Baby
We acknowledge that it's important to hold our babies after birth, but the need to be home and bond with our babies continues into the fourth trimester. The old tradition pre-19th century was that women weren't to leave their beds for nine days after giving birth. This is far from realistic in our modern context, even when we seek the support we need, but we should strive to spend as much time with our infants as possible, getting to know their sounds, smells, faces, and habits. We want to attune to our babies, to empathize with them in order to know their needs. This site has a great chart that shows the difference between the womb and the outside world that supports why your baby likely wants to be held all the time, or walked or rocked. Taking a moment to empathize with our babies will help us to confidently address their needs.
Incorporating the skills we learned to birth confidently provide a great foundation for confident parenting in addition to addressing other challenges such as tuning out messages about how our bodies should once we're out of maternity clothes and learning how to breastfeed. As you give yourself the flexibility and support to get to know your infant, you will be able to reflect on your personal mothering style and to support other women and perhaps your next child through the challenges of the fourth trimester.
Kristen Hurst is a blogger, a mother, a doula, and a fashionista. She received her bachelor's degree in fashion marketing, and writes for Seraphine Maternity. When she's not trying to juggle the lives of Casey, Austin and Ben, she practices yoga and designs her dream house on Pinterest. photo credit: hugabub.com via photopin cc