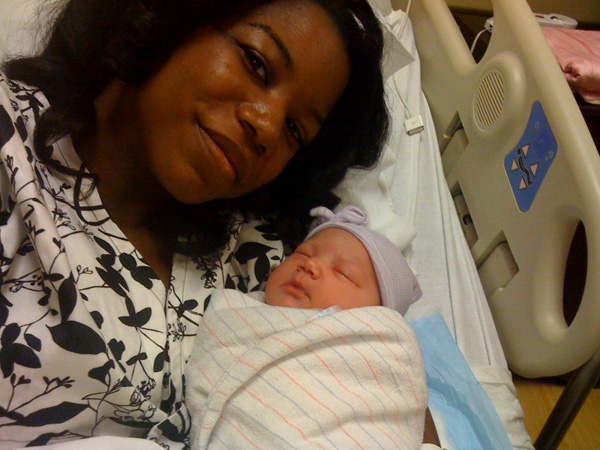 When we last checked in (on this blog) with Jenn over at Baby Makin(g) Machine, she was 37 weeks along and journaling her pregnancy with a weekly photo and letter to her baby-to-be, "Lil' J." As of Saturday, July 3 at 7:41 p.m. (at 41 weeks, 2 days), Jenn birthed a beautiful 9 lbs. 9 oz. little girl! They are both healthy, happy and getting to know and love each other more every day. If you keep up with Jenn on Twitter (@futuremama), you know that she's learning how to how to gain confidence in breastfeeding, is loving watching her baby fall asleep in her arms and is enjoying her new family of three (plus dog!).
If you're part of the blogging or online birth advocate community, you probably are well aware of the conversations, decisions and the confliction that Jenn endured in the days leading up to her birth. The topic? Elective induction (choosing to have an induction for non-medically necessary reasons). With much angst and deliberation, when Jenn was past 40 weeks, she and her husband made the decision to schedule an induction at 41 weeks, 2 days. The decision was made primarily because Jenn's maternity leave (12 short weeks) and her husband's leave (even shorter) had already begun, with no flexibility to be changed. Though initially disappointed in herself, Jenn became at peace with her decision and felt that that it was justified; as she put it, "I'm not getting some elective induction at 38 weeks so I can fly to Bermuda next week."
Over the days leading up to induction, Jenn tried nearly every trick in the book to naturally go into labor (some that I myself tried and some that I didn't dare!). She had lots of on- and off-again contractions, but nothing consistent and nothing that resulted in labor. During this time, Jenn also wrote a poignant post on her blog about the pressure from her social media audience to "do the right thing" during pregnancy and birth. Jenn writes:
I enjoy hearing other people's experiences, and learning from them, but the truth is everyone has different experiences, and there's no cookie-cutter solution for everyone. And it all goes a little too far when people start telling you the way your deciding things are wrong, just because it may not have worked for them.
Lamaze volunteers -- educators and midwives -- kept in touch with Jenn throughout her pregnancy to offer support and answer questions. As an organization, Lamaze stands behind evidence-based information and research that recommends allowing labor to start on its own unless medically necessary. At the same time, we understand that women who are educated and armed with the best information may weigh the evidence and risks and make different choices. We respect Jenn for becoming an empowered and informed mom-to-be by learning and researching evidence-based information, and for having the patience and confidence to allow her body more than 41 weeks to grow her baby. We will be checking in with Jenn during these early days of breastfeeding and hope to continue the conversation throughout her journey into motherhood.