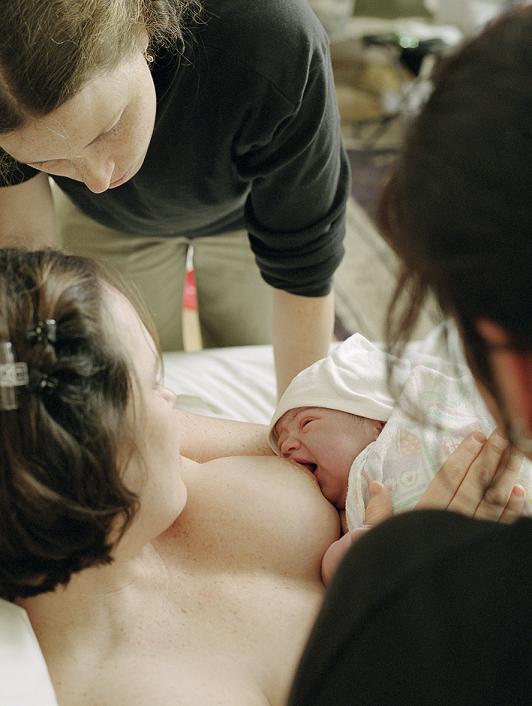 In honor of World Breastfeeding Week, August 1-7, Giving Birth with Confidence is sharing breastfeeding resources throughout the week.
You've probably heard "it takes a village" when it comes to parenting and raising children. And it's true -- surrounding yourself with supportive family, friends, and professional and online resources goes a long way in making your parenting experience a better one. But what about a "village" for breastfeeding? Breastfeeding can be (and often is) a wonderful experience. It also can be trying, challenging, and hard work. Creating access to a network of people and resources who support breastfeeding will help you in times of need, provide a sounding board for your thoughts, and celebrate with your triumphs.
To create your village for breastfeeding, take a few moments before your baby is born (or right this minute, if baby is here) and answer these questions:
Who can I call/where can I go if breastfeeding starts to become painful?

Who can I call at 3am when I have an important breastfeeding question/issue that needs to be solved right away?

Who can give me tips (and show me!) on how to nurse in public?

Who will I call when I want to brag about making it through the first month of breastfeeding?

Who will I call to celebrate when I'm still nursing at 15 months?

Who will I talk to when I feel like giving up? Who won't judge me on my decisions?

Who will I call when breastfeeding is over?

Who will come over to my house and sit with me for an hour or more to observe my baby feed if I'm feeling uncertain?
You may be thinking, "I don't know that many people!" If you're unsure of who will fill your network, here are some suggestions:
Friends or family members who have breastfed in the past or are breastfeeding currently

Your midwife or OB

Your doula

Supportive women in your local mom's playgroup

Your child's pediatrician

Supportive online breastfeeding forum (

https://www.facebook.com/groups/kellymamas/

)

Your local La Leche League group

Your hospital's lactation consultant staff

Evidence-based websites, like

kellymom

and

La Leche League
How did you create your village? What questions would you add to our list?