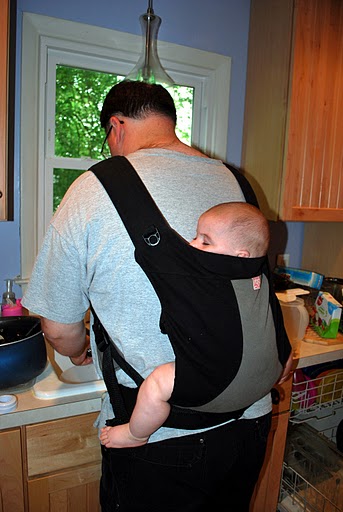 By Ann Marie Rodgerson, Vice President, Babywearing International
"Babywearing" is the term used to describe wearing your child in a soft carrier. There are a wide variety of carriers available on the market today. A 1986 study in Pediatrics found that infants that are carried more cry less than other infants; a 1990 study in Child Development found that infants carried in soft carriers showed a high degree of positive attachment at 13 months, and countless parents around the world have found that wearing their baby in a cloth carrier allows them to tend to their daily tasks while also caring for their infant.
When choosing a carrier for your newborn or baby, you should look for something that will hold your baby in a position you would naturally carry her in your arms. When you place baby in a carrier and then embrace them as though you were holding her in your arms, there should be mimimal movement from the position the carrier uses. Ideally, baby should be in an upright position, high on your chest (close enough to kiss the top of her head). Baby's legs should be in a spread squat position where her bottom is lower than her knees. This position helps to prevent an important but not often addressed concern -- positional asphyxia. This occurs when baby's head lolls forward and his chin presses to his chest. This can kink the baby's airway preventing him from getting enough oxygen. This can occur in swings, carseats, strollers, bouncy seats, and baby carriers. When wearing your baby, always be aware of her airway. Some slings available on the market can place baby into this chin-to-chest position with little option for repositioning. If you're new or confused about the many babywearing options available, read on as I review the different types of carriers and tips for safe positioning.
Pouch Slings
A pouch sling is a tube of fabric, usually custom fitted to the wearer, thus making this style of carrier one that can't be shared. Even adjustable pouches must be adjusted before putting them on, as the adjustment is to create a non-adjustable pouch that fits snugly. Pouch slings can accomodate both front and hip carries well. For brief periods with older infants, they can be used for back carries. I generally use the back carry position for a get grabby hands out of the way" moment rather than as a regular carrying position. While a pouch sling seems like a good choice because it has nothing to fiddle with, it does not make a great choice for newborns. It is difficult to achiece ideal positioning with a newborn in a pouch, especially because mom's size fluctuates a good deal during the postpartum period. The pouch sling becomes a nice quick-carry option around 4 months. An improperly sized pouch is dangerous because baby cannot be properly positioned or secured. An advantage of the pouch sling is it's size -- many moms like to keep a pouch in their diaper bag for emergencies and quick use.
Ring Slings
A ring sling is a length of cloth with two metal rings sewn into one end. The cloth is fed through the rings to make a pouch for baby who can be positioned on front, hip, or for brief periods on the back with an older infant or toddler. This is one of the two types of carriers that can provide ideal newborn positioning. Once mom becomes comfortable with both nursing and wearing the sling, rings slings are also great for nursing on the go. Ring slings are very adjustable, making them easy to share among caregivers and a great option for newborns. They allow the wearer to get baby in and out quickly which can be handy for a newborn who needs regular changes. Some parents find that the one shoulder carry of the ring sling becomes less comfortable with an older heavier infant, though many parents return to them during the up, down phase of early toddlerhood.
Mei Tais
A mei tai is a traditional Asian baby carrier. It is essentially a square or rectangle piece of cloth with four straps that are tied around the wearer. It can be used on the front or back easily. You can do hip carries with a mei tai, but it wouldn't be my first choice. There have been huge variations of the basic mei tai in the last five years, including hoods, headrests, toy clips, and many add ons. They can be a little tricky to achieve ideal positioning with newborns. Because of this, some wearers choose to leave baby's feet inside the carrier. Make sure the baby's weight is on her bottom and not her feet if you choose to carry with legs in. You can also use a ribbon to narrow the width of the bottom portion of the carrier to better fit it between baby's legs. A mei tai is a good choice if you only want to buy one carrier that lasts from birth to toddlerhood and want to be able to share the carrier between caregivers.
Soft Structure Carriers
A soft structure carrier is essentially a mei tai with buckles. Most also have added a heavily padded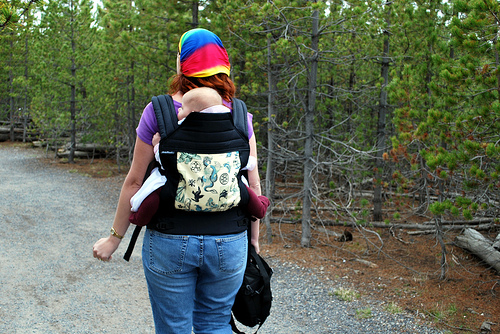 waist belt to transfer more weight to your hips. Soft structure carriers are designed with back carries in mind, but can be used on the front successfully by many parents. Many can also do hip carries, but like a mei tai, I don't think it is the most comfortable choice. Soft structure carriers are designed with older babies and toddlers in mind. Some offer infant inserts to try and make them work for newborns, but they still cannot achieve ideal positioning. Paired with a ring sling or wrap, this could be a great choice for your older infant or toddler.
Wraps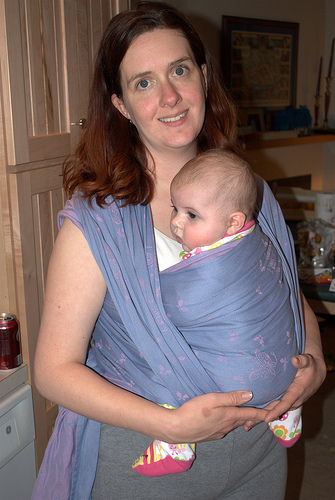 The final type of carrier is a wrap or simple piece of cloth. You can purchase commercially available wraps or you can make your own. It is wrapped around the wearer in a variety of ways to produce the most comfortable and ergonomic carries. Wraps come in two types: stretchy or woven. A stretchy wrap can be used for front or hip carries, but should NEVER be used for back carries. A back carry in a stretchy wrap is a dangerous choice because baby could push against the fabric causing it to roll down and release baby. A woven wrap is the one carrier that does everything well -- front, back, hip, newborns, toddlers, you name it. However, that versatility comes with a higher learning curve on how to wear a wrap. Parents can learn to use a wrap via online videos or from their local babywearing group.To learn more about babywearing, visit Babywearing International at www.babywearinginternational.org, or online forums like www.thebabywearer.com, or from your local babywearing group.
____________________________________________________________
Ann Marie Rodgerson is the Vice President of Babywearing International. Upon entering parenthood, Ann Marie failed to find a successful carrier option for her daughter despite her best efforts. She was delighted to discover Babywearing International of DC-MD-VA after the birth of her second child and set about learning as much as she could to help prevent other parents from the same frustrations she experienced as a new mom. She is now helps parents around the greater DC area to wear their babies safely and comfortably while regularly wearing her middle and youngest daughters.