By Wendy Davis, PhD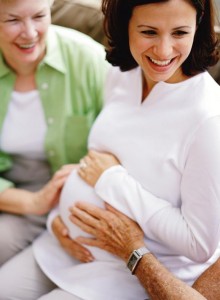 The proper support of new mothers, babies, and their families requires a whole chain of care that goes from the earliest prenatal care all the way through the first early years of a child's life. We are all links in that chain -- families, providers, and communities: we work best when we are collaborating, working together, creating nurturing environments for infants and their families. The most important message about mental health and self-care for new parents is that it is a natural need to receive support during pregnancy and postpartum, and that includes emotional as well as physical and practical support.
How can families help when a mom has postpartum depression or anxiety? How do we learn about signs and symptoms in a way that feels empowering and not shaming? Sometimes it seems that our heaviest burden is our own self-criticism and judgment, our own expectations that a good mom would never feel any emotional distress. Women who are depressed or anxious during or after pregnancy tell us that friends, family, and perfect strangers directly influence how they feel, whether they reach out, and even how they communicate with their partners. How a family responds to a new mother's emotional and mental health can affect her through pregnancy, pregnancy loss, postpartum, and her developing self-image as a mother.
Here's a good illustration.
I am standing in line at the grocery store and overhear a conversation between the two women in front of me. One is there with two children a baby in the cart and an older child who calls her grandma. She is taking care of the little ones and talking to the silver-haired woman behind her, comparing notes about grandchildren. I hear the woman with the children mention that she's helping because her daughter-in-law has Postpartum Depression. They pause and look at the kids. I wait...I wait for the inevitable: the rolling of the eyes, the talk about how women these days just want the easy way out, how everyone and her sister seems to have Postpartum Depression. I ready myself, getting ready to tell them that it is real, it is rough, and that we are lucky to have real resources, volunteers who can help her connect, find resources, not feel alone. I want them to understand, to know that they should not judge. I want to tell them that it actually is almost true that everyone and her sister has it, and that we need to listen to them, not judge, and help them. I'm ready. I take a breath.
They surprise me.
The woman in front of me shakes her head. Oh, I only wish we had help back in my day. I wish... She's a lucky girl, your daughter-in-law. If I had been able to ask for help and have someone take the kids to the store....You know, she's lucky to have you. They smile at each other, and look down at the children. I feel like crying, with relief. If the grandmothers at the store understand, then we might just have a chance.
Times have changed, and they will continue to change. Although another day could have brought an insensitive conversation about depressed new moms, this day in this store reminded me that our families and communities are beginning to understand. New moms do get depressed and they get anxious. Pregnant women have as much chance of becoming depressed or anxious as their postpartum moms, and teenage moms have a greater chance than any. Even adoptive moms and dads can become depressed and anxious after a new baby arrives. We have been ignoring it and as a result families have suffered. Fortunately, communities around the world (and the internet) are working together to create a safety net that includes raising awareness, connecting families with resources, educating providers, and forging partnerships to help families.
The earliest references to depression, fears, or psychosis around childbearing were recorded in the 4th century BCE! In modern times, we stopped talking about them. Acknowledgement of despair seems to have been replaced by pretty media pictures of mommies and babies and shallow reassurances by families and doctors who tell mom to get a haircut, buy a new dress, or wean the baby. Traditional rituals to support new mothers and fathers were replaced by baby-shower games, and built-in help for new parents gave way to expectations that one parent will go to work and the other stay home to keep up with housework, her appearance, and the bliss of new motherhood. In this modern world, where is the language to describe mornings filled with anxious fears, dinner that remains uncooked, and nights disrupted by mommy crying as much as the baby?
Organizations like Postpartum Support International believe that we can prevent a crisis if new parents receive reliable information, resources, and adequate support before the baby arrives. If families learn that symptoms of emotional and mental distress during pregnancy and postpartum are common, treatable, and temporary, then they will not be consumed by fear or shame if it occurs. They might find ways to rest more, reach out sooner, and engage with informed providers and support services to prevent their distress and facilitate their recovery. Most importantly, by finding resources, they can make contact with real mothers, fathers, and grandparents who have gone through their own difficulties around childbearing, and they will learn that they are not alone and not to blame. Women should know that they can contact support organizations like PSI for support around any stress, adjustment, or distress related to childbearing; they don't need a diagnosis and they won't be pushed into any particular treatment.
Although we most often hear about Postpartum Depression when we talk about mental health around childbearing, there are in fact several ways that emotional distress commonly arises not only depression, but anxiety, bipolar cycles, grief, trauma, and psychosis. The most recent research shows that more than 1 out of 8 pregnant and postpartum women develop significant depression or anxiety, and up to 1 out of 10 fathers also have depression after a new baby arrives. Postpartum Psychosis, the most serious postpartum psychological disorder, occurs in 1 to 2 per 1000 births.
This means that one in eight women has enough disruption in her moods, sleep, appetite, confidence, and ability to function that she could be diagnosed with a clinical mood disorder. You can't tell who it is by looking: moms will smile on the outside while they are feeling lost, scared, and emotionally numb. Our cultural taboo against maternal depression has thwarted us from talking compassionately about our emotional lives as mothers.
There are identifiable risk factors such as a history of PMS, depression, anxiety, or bipolar mood disorders, recent loss, or life stressors. Symptoms might include feeling overwhelmed, inadequate, anxious, or detached, and in some cases the difficult anxiety symptom of repetitive, intrusive thoughts that include unwanted images of harm to their babies. If the family and their caregivers do not have reliable information to help them distinguish between anxieties that are not dangerous and delusional thinking that is, anxious mothers live in fear and their symptoms increase.
If a mom is fortunate, people around her will remind her that she is worthy of care, treatment, and help. If she has emotional difficulties, they will tell her that these are symptoms of distress, not a sign of her inadequacy. Having negative feelings about becoming a mother is a symptom of depression; it is not a cause. We can be open to the truth about the difficult adjustment of becoming a parent. Can we accept that depression, fear, anger, and loss might exist side by side with love and attentive parenting? If we can become a culture of truth-tellers and fair listeners, we will make our families stronger and healthier, and change the environment into which children and their parents emerge.
So, let's hear it for the grandmothers in line at the store. Thank you for listening, providing safety in the storm, telling the truth.
Contact Postpartum Support International for support, information, resources, and volunteer opportunities at www.postpartum.net or 1-800-944-4PPD (1-800-944-4773).
Wendy Davis, PhD, provides counseling, training, and consultation for mental health related to pregnancy, birth, loss, postpartum recovery. She was the founding director of Oregon's Baby Blues Connection and is the Executive Director of Postpartum Support International.