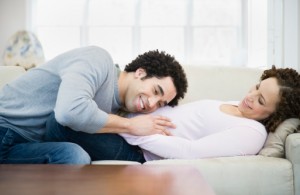 Tomorrow is Valentine's Day! If you're pregnant, you have a new valentine to consider this year. And while your little one won't be looking for flowers or chocolate, there are ways you can begin to bond with your baby even before he or she (or they!) arrive. The following are tips compiled and excerpted from a Lamaze.org article on bonding with baby.
Take it slow. Bonding refers to the feelings of love and empathy that parents develop for their children. The bond you feel with your baby isn't instantaneous; it will grow slowly yet steadily over the months of pregnancy until the day you meet your child and begin life as a family.
Write it down. It's very normal to experience fears and concerns during your pregnancy. It's important to give yourself space to deal with your fears in a way that works for you. Write in a journal or draw pictures of what's going through your head. Share your concerns with your partner, as well as with your friends, pregnant or not. Expressing your thoughts will help you deal with them and accept your child into your life.
Double the love. If your partner feels removed from your pregnancy, help him with this simple exercise. Have him put his hand on your abdomen, and when he feels movement or when you tell him you sense the baby, have him say, Hello, baby. If he does this a few times a day for a week or two, he'll feel more connected to both of you. Pretty soon, the baby may even kick his hand at the sound of your partner's voice.
Take heart. If you have a hard time connecting emotionally with your baby during your pregnancy, it's OK. Your body will continue to nourish and protect your baby even if your heart isn't quite there yet. And more than likely, once your baby is born or shortly after, you will develop a close and connected relationship that will be like none other.
In what ways did you bond with your baby during pregnancy? Did you have a difficult time bonding? Share your comments for other moms to read -- your words may reach someone who's in need of encouragement!